A place of beautiful
contradictions
Built on a circular spot on the hill, in order to offer the ultimate view of the Messinian Gulf and the endless olive groves of the region, the complex is located in Vounaria, only 7 km away from the center of Koroni and 850m away from the popular sandy Peroulia beach, which combines relaxation and fun. Enjoy the fine gold sand and the crystal clear waters of the Messinian Gulf in an idyllic setting. The seaside town of Methoni is located just 25 km away from the complex. Visit the city and the famous castle and walk through the picturesque streets to the Gate of the Sea and Bourtzi. Finally, for those seeking absolute relaxation, our facilities and services will fill your days and nights and will … recharge your batteries.
Directions from Kalamata airport to the hotel: approximately 35minute drive, Camvillia signs during the whole route. Some basic guidelines are to follow the road with direction to Pylos and then take the turn to Koroni city. Keep following signs for Koroni, through the villages of Petalidi, Kalamaki, Chrani, Episkopi, Ayios Andreas, Nea Koroni (this is not Koroni!). Then, eventually you should take a left to Vounaria village, there is also a Camvillia sign at that point.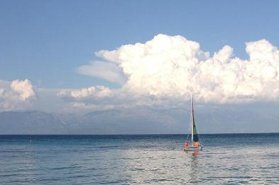 Nearby Attractions
Koroni
Koroni with its castle, the picturesque village of Vasilitsi and the nearby enchanting beaches compose a special destination in Messinia that perfectly satisfies the expectation for unforgettable holidays. Built at the southwestern tip of the Peloponnese, at a distance of about 50 km from Kalamata, the picturesque Koroni is one of the most beautiful small Greek cities. Colorful, spread on the slope, with the Venetian castle at the top and the sea at its feet, it radiates a sense of peace that charms the visitor from the first walk.
Methoni
Methoni, a coastal town, is 52 km southwest of Kalamata and is famous for the Venetian castle that dominates the city. Churches, mosques, fortifications and a great castle, which is surrounded by the sea, rank it on the list of the most beautiful Greek cities. The port of Koroni, in combination with the picturesque cobbled streets, the two-storey mansions and the countless churches, complete a wonderful puzzle of colors, contrasts, with a clear medieval character.
Peroulia Beach
This is the most "Hi Tech" beach, as it has an elevator that transports you to the unique beauty of the sandy beach with the crystal clear waters of the Messinian Gulf. We reach it by making a small detour to Vounaria, just before Koroni, on the provincial road of Kalamata - Koroni. A verdant slope rises when the sand ends and the shallow waters offer their most dreamy colours to welcome you. Fully organized, with sun loungers, a beach bar and even a restaurant!