Start your
Summer Dream
The quintessence of elegance, luxury and style is combined in the suites and rooms of our hotel. Relax and enjoy the most exclusive experience while enjoying the unique amenities of Camvillia Resort and the stunning natural surroundings of Koroni. Enjoy endless swims in the pool from morning to night against the backdrop of the Messinian Gulf. Indulge in the relaxing environment of your private terrace, enjoy the cool spacious living room and let the Messinian hospitality rejuvenate your body and spirit. Overlooking the olive groves that surround our facilities and the deep blue sea, you can enjoy your coffee in the comfortable furniture seats of your own terrace or in your perfectly decorated living room. The number one choice for those who want to exceed all expectations of wellbeing and enjoy their vacation in a rich and luxurious environment!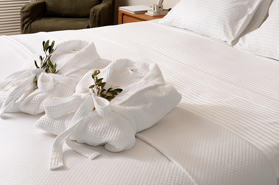 Executive Double Room With Sea View
See More
Rooms
Enjoy the wonderful view of the Messinian Gulf from your balcony or your terrace!
01 / 02
Rooms
Take a dip in the pool and let the Messinian sun revitalize your mind and spirit.
02 / 02